ONE GESTURE

THEATRE
TOURING
MEDIUM SIZE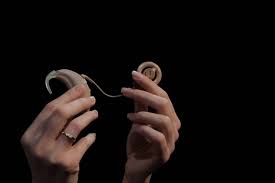 One Gesture is a show about sign languages.


It is a show about communicating with the world - with the world of the hearing and with the world of the other Deaf. How does communication work? What can we learn about the world from the languages of the Deaf? What is universal about their experience of communicating, and what is unique?



"The limits of my language mean the limits of my world." With this sentence in the back of his head director and artist Wojtek Ziemilski started working on a piece for four performers with hearing impairments. And he realised how true this sentence actually is. His own language appeared to him increasingly inadequate. When people talk to each other in sign language, they look into the other's eyes and not at their hands. Their language is more than a sequence of mechanical hand signs – they speak with their entire body. Consequently sign language became the perfect dramatic medium for Ziemilski, as a sort of performance quite similar to dance.



In "Jeden gest" four women and men tell their personal stories. They convey how their hearing impairment affects their lives and how they deal with their situation. All of them found it difficult in their childhood to adapt to the world of those who could hear and who perceived not hearing only as a deficit. But "Jeden gest" is more than just an interesting lesson about the reality of a minority. This performance takes the audience on a journey of a fascinating, unknown world of language. A world in which communication is an event of gesture, facial expressions, rhythm and movement – something that has to be seen to be understood.



Main Award
38. Zürcher Theater Spektakel, Switzerland

Main Award
Fast Forward Festival, Dresden, Germany

Special Award and the Dani Press Award
MESS Festival Sarajevo, Serbia


Honorable mention
7th International Festival Theatre Caroussel, Łódź, Poland.


Director: Wojtek Ziemilski
Set design, associate director: Wojciech Pustoła
Lighting design: Artur Sienicki
Music: Aleksander Żurowski
Costumes: Krystian Jarnuszkiewicz

Cast: Marta Abramczyk, Jolanta Sadłowska, Pavel Sosinski, Adam Stoyanov
Translation: Joanna Ciesielska, Katarzyna Glozak
Executive producer: Maria Wilska
Stage manager: Marta Śmierzchalska
Assistant director: Joanna Niemirska
A production of Nowy Teatr
Premiere: 24.09.2016
Duration: 60 minutes
Shown among others at :

3-5.11.2018 Dirty Deal Teatro, Riga, Latvia
28-29.11.2018

Kanuti Gildi Saal

, Tallinn, Estonia
26-28.10.2018 Wuzen International Theatre Festival, Wuzen, China
14-17.03.2019 Nowy Teatr, Warsaw
15-16.05.2019 AUAWIRLEBEN, Bern, Switzerland
24.05.2019 Modern Art Days, Białystok, Poland
20-21.06.2019 Conde Duque Teatro, Madrid, Spain
21.09.2019 Teatr Śląski, Katowice, Poland
9.10.2019 Urbang Festival, Cologne, Germany
30.10.2019 Klaipėdos dramos teatras, Klaipėda, Lithuania

...Words are definitely not enough to describe what makes One Gesture an amazing experience. ...Ziemilski leaves his audience with tears in their eyes resulting not from a cheap melodramatic thrill but from the pure experience of learning more about another human being.
...The performance crushes conventional boundaries and grips its audience by the guts without the use of elaborate gimmicks. Without following prescribed patterns, and relying on simple communication, it shows that sometimes words are hardly needed–a gesture is enough to create a bridge of understanding.-

Agata Tumiłowicz-Mazur

,

The Theatre Times

.
We can learn a lot from Wojtek Ziemilski's Jeden gest. ... A theatre that wants to be close to life.
Piotr Morawski, dwutygodnik.com

An aesthetically refined and dramatically coherent form... What emerges as a result is a rather fascinating set of gestures which become not only a means of communication but also a fascinating choreography.
Stanisław Godlewski, Gazeta Wyborcza Poznań